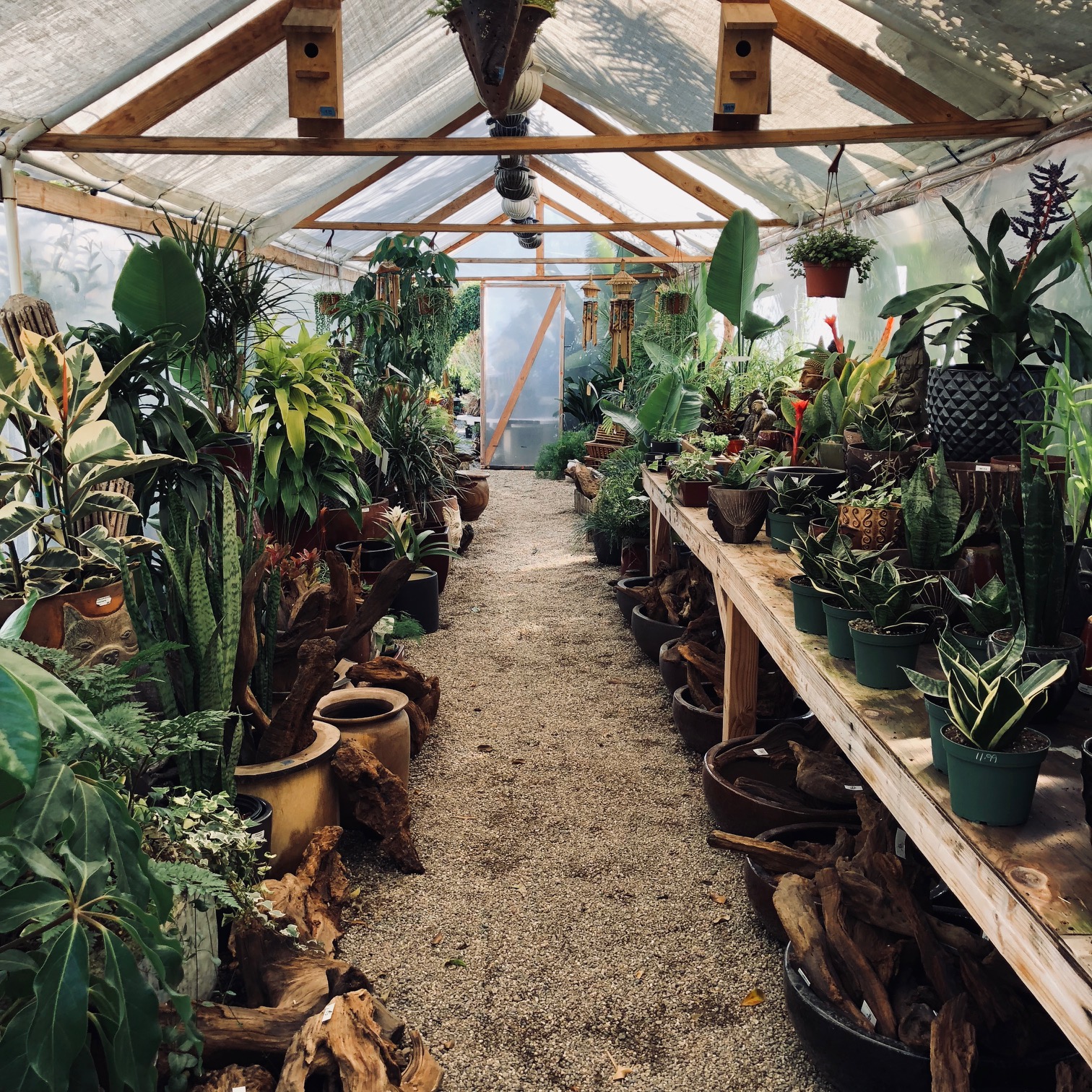 Planty Places Travel Guide
Here I'll keep a running list of public plant-filled places I've been and those I'd like to visit, including botanical gardens, nurseries, conservatories, plant shops and even restaurants, coffee shops, and buildings. Please message me or tag @plantyplaces or #plantyplaces on Instagram if you have suggestions or photos to share, as I hope we can inspire each other with our plant travels! I add more all the time, so check back! Starred places are on my bucket list - haven't been yet! They are alphabetized first by states in the United States (I don't mean to be US-centric but it's where I live and have the most information on), and then by countries Internationally. Enjoy!
United States
Arizona
California
San Diego (current hometown):
San Diego Botanical Building at Balboa Park. Free gorgeous botanic house located on the grounds of Balboa Park near downtown San Diego. Balboa park is also home to many museums, restaurants, and the zoo. https://www.balboapark.org/gardens/botanical-building

San Diego Zoo - a Botanic Garden as well!

Solana Succulents @solanasucculents www.solanasucculents.com. Jeff Moore owns and operates this darling nursery filled with succulents and cacti, some quite rare species. Jeff is incredibly knowledgeable about his plants! Also a great simple pottery selection. Kids enjoy playing hide-and-seek in the nooks and crannies.

Barrels and Branches Nursery. Encinitas nursery offering many succulent varieties, vegetables, houseplants, airplants, and more. My go-to for modern pottery near my home. They also host great workshops and you can rent the beautiful space for events. http://www.barrelsandbranches.com/

Weidner's Gardens. Wholesale and resale nursery. Lots of succulents and landscape plants. Good houseplant and airplant selection as well, with some cute pots. https://weidners.com/

Anderson's La Costa Nursery, Large selection of succulents, cacti, landscape plants, gardening/plant gear, pots, and a very large houseplant greenhouse. I've found some rare plants here too! https://www.andersonslacostanursery.com/

Cordova Gardens nursery. Large selection of succulents, hanging plants, pottery, and huge houseplant collection. Many peperomia and hoya are usually available. Fiddle fig forest on my IG feed. http://cordovagardens.com/

Sunshine Gardens. Lots of landscape plants. Small but darling houseplant selection. Large aquatic plant selection. Great place to take the kids - they have goats to visit and carp to see! http://sunshinegardensinc.com/

Landmark Plant Company. Curated plant shop in Leucadia. @landmarkplantco. www.landmarkplantco.com.

Leucadia Floral. Make your own potted succulents, find some cool houseplants (I found my rope hoya and parachute plants here). Cute terra cotta pottery. On instagram @leucadiafloral

Andy's Orchids. By appointment only. Over 7000 species of plants including orchids, rhipsalis, Hoya, peperomia and more. Many quite rare. @andysorchids https://andysorchids.com/default.asp

San Diego Botanic Garden. Beatiful outdoor botanic garden in the hills of Encinitas. http://www.sdbgarden.org/

(Tip - the above 9 spots are within 10-15 minutes of each other. Makes for a good long plant tour!)

The House of Plants in Chula Vista @thehouseofplants_ www.thehouseofplants.com

*California Pacific Orchid Farm. If you love orchids you must visit! Close to the spots above. They sell beautiful orchids and will also house your orchids in their "orchid hotel" between blooming for a small monthly fee. They repot and call you when it's ready to pick up! http://www.calpacificorchids.com/

The Succulent Cafe 505 Oak Ave, Carlsbad, CA 92008. Succulents and coffee. Small but great non-succulent houseplant collection as well. They usually have string of hearts (Ceropegia woodii) and many Hoya in stock.

Liv 3 @shopliv3 San Marcos, CA. Plants, gifts and clothing. Lots of little cacti and hanging hoya with beautiful planters to put them in!

North County Roots Nursery in Vista. Very large wholesale/resale succulent nursery with excellent prices and finds - not usually open on weekends FYI but check! Instagram @north_county_roots_nursery

Rancho Soledad Nursery. 30 acres of plants all for sale. Lots of landscape plants, but many succulents and tropical for sale. You can ask to be escorted around in a golf card and load your goodies as you go! Found my Alocasia zebrina here. http://www.ranchosoledad.com/?doing_wp_cron=1514391701.0239050388336181640625

Eden plant shop. Darling small plant shop in the University Heights area of San Diego. Opened fall 2017. Instagram @eden.sd.

North Park Nursery. Sister nursery to Eden plant shop. Lots of succulents, houseplants, and darling pots. http://northparknursery.com/

Pigment. Plants, succulents, and gifts. Check their active IG feed for more. @shoppigment https://www.shoppigment.com/

(Tip - the above 4 spots are very close together and make a nice mini plant tour!)

*Green Gardens Nursery in Pacific Beach. @greengardenssd www.greengardenssd.com

Twin Peaks Mall Poway, CA. Large succulent living wall in the shape of a wave. #TwinPeaksGreenwall

Walter Anderson's Nursery - San Diego and Poway. Large family owned nursery with lots of succulents and landscape plants, plenty of pottery, and though small some really good houseplant finds like hoya and calathea varieties.
Catalina
Los Angeles/Long Beach/Orange County areas
Huntington Library and Botanical Gardens - MUST VISIT. Absolutely incredible place. Huge botanical garden. @thehuntingtonlibrary https://www.huntington.org/

Los Angeles Arboretum - MUST VISIT. Absolutely incredible place.https://www.arboretum.org/

Folia Collective - upscale gorgeous plant/plant accessories shop in the Eagle Rock neighborhood of Los Angeles. @foliacollective www.foliacollective.com

Rainforest Flora - experts in airplants with a HUGE selection. Also an amazing place to visit - like a botanical garden. Waterfalls, turtles, tropical vibes. @rainforestflora

Right Tribe www.shoprighttribe.com - hidden on a side alley in Manhattan Beach, CA. Owners make their own leather goods including plant hangers. Plants for sale as well as lots of cute goodies to pair with plants.

*The Sill Los Angeles. @thesill.

*Los Angeles Flower District

*Wyldbnch (grand re-opening April 20, The Container Yard) @wyldbnch www.wyldbnchplants.com

*Ponderosa Cactus http://ponderosacactus.com/

*Potted Glendale https://pottedstore.com/

*Planta Nursery in Highland Park. @plantanursery

*Cactus Store - A boutique-style LA cactus shop with a sister shop in NYC. @hotcactus_la http://hotcactus.la/

*Pitchoun Bakery & Cafe - huge living wall @pitchounbakery

Rolling Greens - HUGE houseplant and pottery selection! Also found my large philodendron "pink princess" here.

*Sunset Blvd Nursery. www.sunsetblvdnursery.com @sunsetblvdnursery

*California Nursery Specialties Cactus Ranch (Thousand Oaks area)

Peacock & Co (Long Beach) @peacockandcompany - small but sweet plant shop with a great selection of plants and pots. Super nice owner. Shared space with a cute little boutique.

6th and Detroit (Long Beach) - plants and vintage. Need I say more?

*Sherman Library and Gardens. Corona Del Mar. @theshermangardens www.slgardens.org

Organic Designs by Aggelige (Orange County - look for the airstream at The Camp). Airplants in cute pots.

*Kit Coffee - Coffee and plant shop in Newport Beach http://www.kit.coffee http://www.kit.coffee/home/
Inland from LA - Riverside/San Bernardino Counties
Piep. Darling plant shop in downtown Riverside. Family owned. They grow and sell pilea but they sell lots of other great plants, too. I found my heart shaped hoya and two of my rhipsalis here. On IG @piep.co

*Shop Road Trip (Lake Arrowhead area) @shoproadtrip shoproadtripca.com

*Cholla Cactus Garden in Joshua Tree https://www.nps.gov/jotr/learn/nature/cholla-cactus-garden.htm
Palm Springs
Moorten Botanical Garden. Privately owned botanic garden in the heart of Palm Springs with a dreamy cactarium, many cacti and desert succulent species some very unusual. They do sell some plants and pots here, too! http://moortenbotanicalgarden.com/
Central California
*Grow Nursery www.grownursery.com @grownursery in Cambria
Sacramento
*Public Land @publiclandstore www.publiclandstore.com
San Francisco/Oakland/Bay Area
Sloat Garden Center http://www.sloatgardens.com/ - lots of locations including the Marina district in San Fran proper. I got some great succulents here. It looks like a tiny plant shop but is much larger than it seems from the outside!

*Verde Alcove traveling plant truck! For upcoming locations check their facebook page: https://www.facebook.com/VerdeAlcove/

*The Dry Garden (Oakland)

*Flora Grubb Gardens http://www.floragrubb.com/

*Paxton Gate https://paxtongate.com/paxton/plants-garden

*Cactus Jungle nursery

*Bennett Valley Gardens in Santa Rosa @bennettvalleygardens
Santa Cruz/Half Moon Bay area
*Dig Gardens https://diggardens.com/ @diggardens (thanks to @kolokea for this rec!)

*Half Moon Bay Nursery. @halfmoonbaynursery

More in Half Moon Bay listed here: https://www.visithalfmoonbay.org/northern-california-nurseries

*The Dry Garden Nursery @the_dry_garden_nursery
Connecticut
*Sam Bridge Nursery @sambridgenursery www.sambridge.com

*J+L Orchids @jlorchids www.jlorchids.com
Colorado
*Creekside Garden Center Fort Collins http://tbhaynie.wixsite.com/creekside

*ReRoot. Curated plant and flower shop in Denver. @rerootgardens www.rerootgardens.com

*Green Lady Gardens in Denver. @greenladygardens www.greenladygardens.com

*Little Lula Rose @littleluladenver www.littlelularose.com

*Amethyst Coffee Co. Lots of plants including flying Pothos! @amethystcoffeeco https://www.amethystcoffee.co/
Delaware
*Inland Bays Garden Center
District of Columbia
*Little Leaf Shop https://www.littleleafshop.com/ @littleleafshop

*Ginko Gardens http://ginkgogardens.com/

*National Botanical Garden https://www.usbg.gov/

Smithsonian Museum has some garden areas!
Florida (spent four years living in North Florida and can't wait to do a state plant tour!)
*Fairchild Tropical Botanic Garden (Miami area)

*Fancy Free Nursery (Tampa area)

*Miami Beach Botanical Garden

*Local Gardens by Margo @localgardensbymargo in Tarpon Springs.

*Till Plant Company @tillplantcompany - darling vintage trailer pop-up plant shop in the Orlando area.

*Florida Cactus nursery north of Orlando. @florida.cactus

*Craft & Common - coffee shop in downtown Orlando with plants from @landofalicestudio. @craftandcommon

*Costa Farms wholesale grower www.costafarms.com @costafarms

*Thrive Water and Garden in Tampa @ThriveGardenandWater https://www.facebook.com/ThriveGardenandWater/

Kanapaha Botanical Garden Gainseville, FL. http://kanapaha.org/ Among many other beautiful sightings, see giant "Victoria" lily pads in person.

*Wild Roots in St. Petersburg. @wildrootsstpete www.wildrootsstpete.com

*Sunken Gardens in St. Petersburg. @sunkengardensstpete www.stpete.org/sunken

*Porch Therapy in Orlando. @porchtherapy http://www.porchtherapy.com/

*Land of Alice in Orlando @landofalicestudio, shop open by appointment only. Online plant sales at www.landofalicestudio.etsy.com/
Georgia
*Flora/Fauna ATL - Plant Boutique in Atlanta @florafaunaatl http://florafaunaatl.com/

*The Victorian Atlanta. "A Creative Plant Shop." @thevictorianatlanta www.thevictorianatlanta.com

*Two Urban Licks restaurant in Atlanta. Large living wall! https://www.twourbanlicks.com/
Hawaii (former hometown, where I was raised)
Kauai - Limahuli Garden and Preserve. Incredible botanic garden on the North Shore of Kauai. If you like tropical plants then this is your spot! https://ntbg.org/gardens/limahuli

Maui Kaumahina State Wayside Park https://hawaiistateparks.org/parks/maui/kaumahina-state-wayside/

Oahu - Paiko plant shop. www.paikohawaii.com. IG @paikohawaii. Workshops, build your own terrarium or succulent potted mix, and pick up some very nice plant accessories.

Oahu - Ginger13. Wonderful houseplant and pottery selection. Grab a beautiful piece of custom jewelry while you shop for plants! ginger13.com @ginger13hawaii

Oahu - Ho'omaluhia Botanical Garden

Oahu - Foster Botanical Garden

Oahu - Lili'uokalani Botanical Garden

Oahu - Moanalua Gardens

Oahu - Wahiawa Botanical Garden

Oahu - Waimea Botanical Garden

Oahu - *KCC Cactus Garden

Oahu - Koko Crater Botanical Garden

*Once Again Hawaii succulent shop - @onceagainhawaii - call first! They are not always open during their listed hours. They do pop-ups elsewhere on the Island as well.
Indiana
*Grounded Plant & Floral Co @groundedplantfloralco www.groundedplantandfloral.com
Illinois
(I was born in Chicago and I think I went to the first 2 when I was young, which is why they aren't starred. Can't wait to go back though!)
Garfield Park Conservatory Chicago, IL https://garfieldconservatory.org/

*Morton Arboretum @mortonarb www.mortonarb.org

*Gethsemane Garden Center in Andersonville @gethsemanegardencenter www.gethsemanegardens.com

Chicago Botanic Garden https://www.chicagobotanic.org/

*Sprout Home Chicago www.sprouthome.com and @sprouthomechicago
Iowa
Des Moines
*DSM Botanical Gardens http://www.dmbotanicalgarden.com/

*Art Terrarium https://artterrarium.com/

*Harvey's Greenhouse http://harveysgreenhouse.flywheelsites.com/
Kansas
*Family Tree Nursery. Multiple locations. @family_tree_nursery www.familytreenursery.com
Maine
*Snug Harbor Farm in http://snugharborfarm.com/ @snugharborfarm

*Mahoney's Garden Center http://mahoneysgarden.com/, @mahoneysgarden
Massachusetts
*Sylvan Nursery in Westport http://sylvannurseries.com/

*Niche Urban Garden Supply in Boston http://www.nicheboston.com/
Michigan
*Flowerland. Large Michigan nursery with 3 locations. https://myflowerland.com

*Belle Isle Conservatory in Detroit https://www.belleisleconservancy.org

*Matthaei Botanical Garden and Nichols Arboretum, University of Michigan https://mbgna.umich.edu/
Minnesota
*Como Park Zoo and Conservatory St. Paul, MN http://www.comozooconservatory.org/ @comoparkzooandconservatory

*Tonkadale Greenhouse https://tonkadale.com/

*Mother Earth Gardens @motherearthgardens http://www.motherearthgarden.com/
Mississippi
*Courtney Farms in Ocean Springs. @courtneyfarms https://www.facebook.com/Courtney-Farms-333264274084/
Nebraska
*Lauritzen Gardens https://www.lauritzengardens.org/
New Orleans
*New Orleans Botanical Garden
New York
*The Sill @thesill and https://www.thesill.com/

*28th Street - from the sounds of it, lots of planty spots on this street!

*Brooklyn Botanic Garden

*Rooted NYC in Brooklyn. @rootednyc.

*Greenery NYC in Brooklyn. @greenerynyc

*Brooklyn Plantology. @brooklynplantology.

*Wave Hill (Bronx) Public Garden and Cultural Center. https://www.wavehill.org/

*Plant Shed NYC www.plantshed.com/ and @plantshednyc - lots of plants and pots!

*Sprout Home Brooklyn https://sprouthome.com/ and @sprouthomebrooklyn - great selection of succulents, cacti and pots

*Kings County Nurseries in Brooklyn. www.kingscountynurseries.com @kingscountynurseries

*Green Fingers Market www.greenfingersnyc.com @greenfingersmarket

*Hicks Nurseries in Long Island. @hicksnurseries

*Add Water And Light. Queens. @addwaterandlight.
North Carolina
*Reynolda Gardens in Winston-Salem, NC @reynoldagardenswfu http://reynoldagardens.org/

*Big Bloomers Flower Farm in Sanford @bigbloomersflowerfarm http://www.bigbloomersflowerfarm.com

*Malone's Nursery in Charlotte. @malonessucculentgreenhouse

*Pender Pines Garden Center in Hampstead. www.penderpines.com
Ohio
*Miller Nature Preserve in Avon. @mnplcmetroparks http://www.metroparks.cc/miller_nature_preserve.php

*Kingwood Center Gardens @kingwoodcentergardens. http://kingwoodcenter.org/

*Franklin Park Conservatory in Columbus. @fpconservatory www.fpconservatory.org
Oklahoma
*Joe and June www..joeandjune.com

*Myriad Botanical Gardens @myriadgardens https://oklahomacitybotanicalgardens.com
Oregon
Portland (former hometown):
Pistils. If you are a plant person on Instagram, then I don't need to tell you! For everyone else, Pistils is a plant shop in North Portland selling beautiful plants and plant accessories. Some of their plants are not for sale but beautiful to visit nonetheless. @pistilsnursery http://pistilsnursery.com/

Solabee. Not far from Pistils, Solabee is a plant and flower shop in North Portland also home to amazing specimens. They sell great plant accessories as well. @solabeeflowers, http://www.solabeeflowers.com/

Appetite. In Southeast Portland, a shop specializing in vintage (furniture, home goods, etc) and plants including many cool cacti. They have already potted plants as well as mix and match. They also make their own foliage printed curtains and canvas cache pots. https://appetiteshop.com/

Portland Nursery. Great spot in Portland for all kinds of plants, many sizes and shapes available! https://portlandnursery.com/

*Pomarius Nursery http://www.pomariusnursery.com/

*Fang & Feather Pet and Garden Supply @fangpetandgarden www.fangpetandgardensupply.com

*Birds and Bees Nursery

*Arium Botanicals @ariumxintent www.ariumbotanicals.com. Northeast Portland plant, coffee and tea shop started by @urlocalplantboy.

*Local Branch @localbranch www.yourlocalbranch.com

*The Potted Elephant - appointment only - outside Portland. @thepottedelephant

*Cistus Nursery on Sauvie Island http://www.cistus.com/

*Gurton's Plant Shop in Hillsdale @gurtonsplantshop https://www.gurtons.com/

*Talise Garden @talisegarden

*Uflora Plant House in Newberg (outside Portland) @ufloraplanthouse and https://www.ufloraplanthouse.com/

*Lovejoy Workshop in Tanasbourne @lovejoyworkshop - @cleverbloom often has potted plants for sale here!

*Fieldwork Flowers https://www.fieldworkflowers.com/ @fieldworkflowers

*Starflower www.starflowerpassion.com @starflowerpdx

*Pierce Street Gardens in Eugene. @pierce.street.gardens www.piercestreetgardens.com

*Historic Deepwood Estate in Salem https://www.historicdeepwoodestate.org/
Gervais
*Rita Lees Nursery @ritaleesnursery - a small family owned gem of a nursery!
Ashland (Side note, I love this town!!! Went to the Shakespeare Festival with my hubby pre-kids and stayed in an amazing B+B. Highly recommend visiting Ashland!)
*Bestow & Bloom https://bestowandbloom.com/ and @bestowbotanicals
Pennsylvania
*PA Orchid Exchange @pa_orchid_exchange www.paorchidexchange.com

*Rhoades Garden @rhoades_garden www.rhoadesgarden.com

*Longwood Gardens www.longwoodgardens.org

*Phipps Conservatory and Botanical Gardens in Pittsburgh. @phippsconservatory www.phipps.conservatory.org/
Rhode Island
*Peckham's Greenhouse http://peckhamsgreenhouse.com
South Carolina
*Abide a While https://abideawhile.com/, @abideawhile
Tennessee
*Hewitt Garden & Design Center in Franklin. @hewitt_gc
Texas
Austin
Dallas
*Ruibal's plants. Multiple locations in Dallas. @ruibalsgardenshop. www.ruibals.com
Houston
*JRN Nursery 4809 Breen Dr, Houston, TX 77086
Fort Worth
San Antonio
*San Antonio Botanical Garden
Utah
Salt Lake City
Virginia
Sunnyside Nursery http://www.sunnysidenurseryva.com/
Washington State
Seattle area
*Plant Shop Seattle www.plantshopseattle.com and @plantshopseattle

*Urban Sprouts Store www.urban-sprouts.com/ and @urbansproutsstore

*Swanson's Nursery www.swansonsnursery.com/ and @swansonsnurseryseattle

*Cultivate Propagate. Online and brick and mortar store in Seattle, rare plants! @cultivatepropagate https://www.cultivatepropagate.com/

*Greenhouse @gwgreenhouse

*Molbak's Garden and Home in Woodinville @molbaks

*The Spheres. Conservatory (over 40,000 species of plants!) and work space in downtown Seattle. @seattlespheres https://www.seattlespheres.com/

*Volunteer Park Conservatory https://volunteerparkconservatory.org/

*Flower World www.flowerworldusa.com/ and @flowerworldusa
Wisconsin
*Olbrich Botanical Gardens in Madison. @olbrichgardens http://www.olbrich.org

*Rotary Botanical Gardens in Janesville. http://www.rotarybotanicalgardens.org/
International
Amsterdam
*Hortus Botanicus

*Hotel Jakarta Amsterdam @hoteljakarta.ams www.hoteljakarta.amsterdam/

*Het Oosten. Huge nursery! http://www.tuincentrumhetoosten.nl/assortiment/kamerplanten/

*Berry Coffee Shop @berryamsterdam
Australia
*Hass & Co plant shop - Perth

*Bar Botanik plant shop - Perth

*Royal Botanic Gardens Victoria - Melbourne and Cranbourne @royalbotanicgardensvic https://www.rbg.vic.gov.au/

*Wollongong Botanic Garden - New South Wales http://www.wollongong.nsw.gov.au/botanicgarden/

*Oxley Nursery @oxley_nursery www.oxleynursery.com.au

*High Swan Dive in Newcastle @highswandive

*On the Side - boutique pots, plants, home goods in Victoria www.onthesidehome.com @ontheside_
Belgium
*The Plant Corner @theplantcorner
Belize
Canada
*Fleuriste Abaca Montreal https://www.fleuristeabaca.com/en/ @fleuristeabaca

*Jungle Fleur in Montreal. @junglefleur.mtl www.junglefleur.com

*Bloedel Conservatory (Vancouver area)

*Dynasty Toronto http://www.dynastytoronto.com/

*Rice Road Greenhouses @millionplants http://www.millionplants.com/

*Valleyview Gardens Toronto http://valleyviewgardens.com/

*Cloud Gardens Conservatory (Toronto). Check the hours! per @leighkiyoko they have an amazing mounted staghorn and kokedama. https://www.toronto.ca/explore-enjoy/parks-gardens-beaches/gardens-and-horticulture/conservatories/cloud-gardens-conservatory/

*Montreal Botanical Garden http://espacepourlavie.ca/acces/jardin-botanique

*The Butchart Gardens Vancouver Island www.butchartgardens.com @thebutchartgardens

*The Organic Press @theorganicpresstoronto

*Terra Greenhouses (Toronto Area) https://www.terragreenhouses.com/

*Run and Gun Coffee @runandguncoffee Toronto

*Mika Fleur (Toronto) www.mikafleur.weebly.com @stuidomikafleur

*Buddha-Full Vegan Restaurant. Strong plant game and swings for seats! North Vancouver. https://www.buddha-full.ca @buddhafullprovisions

*Tropical House at Gage Park, Hamilton, Ontario

*Cactus Fleuri Inc - Montreal area - https://www.cactusfleuri.ca/

*Stamen & Pistil Botanicals @stamenandpistilbotanicals www.stamenandpistilbotanicals.ca
Costa Rica
*Spirogyra Jardin d Mariposas in San Jose - spectacular Monstera adansonii!

*Jardin Else Kientzler in Alajuela. @jardinelsekientzler. www.elsegarden.com.

*Viveros Exotica. Plant shop in San Jose. http://www.exoticacr.com/
Finland
*Viherpaja http://www.viherpaja.fi/

*Opuntia @opuntia_tre kukkakauppaopuntia.fi/

*Botanical Garden of the University of Tartu
France
*Leaf Paris @leaf.paris

*Atelier Green Factory https://www.greenfactory.fr/

*What the Flower https://whattheflower.com/ and @whattheflower_paris

*Jardin des Serres d'Auteuil http://equipement.paris.fr/jardin-des-serres-d-auteuil-1780

*Le Cactus Club @lecactusclub and www.lecactusclub.fr/

*Ikebanart in Paris. @ikebanart. www.ikebanart.com.

*Paper Plane in Nice @paperplanenice An organic, vegan restaurant with beautiful planty decor.
Germany
*The Botanical Room. Plant shop in Berlin. @thebotanicalroom www.thebotanicalroom.com

*House of Small Wonder Berlin (also with a Brooklyn location). @houseofsmallwonderberlin https://houseofsmallwonder.de/

*Botanical Garden in Munich http://www.botmuc.de/
Hong Kong
*Flower Market http://www.flower-market.hk/

*Salisbury Garden https://en.wikipedia.org/wiki/Salisbury_Garden
Hungary
*Marc Zika Bonsai Studio. This looks like a botanical garden that also sells in store and online. Use google translator if needed, to navigate the site! https://www.bonsaistudio.hu/ Address: 2030 Érd, Napvirág u. 4-2. 4-2.

*Wild Flower Bar http://www.wildflowerbar.com/
Ireland
Italy
*Bosco verticale in Milan https://en.wikipedia.org/wiki/Bosco_Verticale
South Korea
*Yuma Urban Greenlife in the Mapo district of Soeul.

*Ilsan Lake Park's Cactus Greenhouse
Malaysia
*Mulu National Park in Sarawak http://mulupark.com/
Mexico
*Rosetta Restaurant (Restaurante Rosetta) in Mexico City. @restauranterosetta. www.rosetta.com.mx/

*The Orchid Garden in Chapultepec Park. Mexico City.

*Blend Station coffee shop in Mexico City. @blendstation_

*Chaya B&B Boutique in Mexico City. @chayabnb. www.chayabnb.com.
Netherlands
*Wildernis @wildernisamsterdam https://wildernisamsterdam.nl/

*Plantaardig Middelburg @plantaardigmiddelburg www.plantaardigmiddelburg.nl/

*Berry Amsterdam - an eatery with planty decor. http://www.berryamsterdam.nl/ @berryamsterdam
Philippines
*Qach Lifestyle Garden @qachlifestylegarden

*Pianta House in Pampanga @pianta_house
Portugal
Romania
*Cluj-Napoca Botanical Garden. Famous for their huge lily pads and much more! https://www.ubbcluj.ro/ro/structura/sport/gradina_botanica
Saudi Arabia
*Sultan Garden @sultangarden
Scotland
*Royal Botanic Garden Edinburgh
Singapore
Spain
Sweden
Thailand
UK
*N1 Garden Centre in London. @n1gardencentre ntgardencentre.co.uk

*Urban Botanica. Plant Room and Cafe in London. @urbanbotanica_coffee

*The Plant Place @theplantplacegardencentre

*Pilea Plant Shop in Somerset @pileaplantshop www.pileaplantshop.com

*Prick London @prickldn

*Cafe Nucleus. Cafe with plants in Kent. @cafenucleus www.cafenucleus.co.uk

*Old Spitalfields Market. East London market with some planty spots. @oldspitalfieldsmarket

*Arnold Cirus, Shoreditch. Neighborhood with a beautiful garden in London.